Business Opportunity in production of Biodegradable Plastic Bags from Corn & Cassava Starch Granules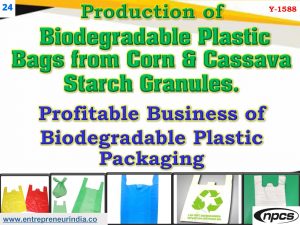 Production of Biodegradable Plastic Bags from Corn & Cassava Starch Granules. Profitable Business of Biodegradable Plastic Packaging.
Bags made of bioplastics have the basic ingredient granulate made from renewable resources like corn starch, cassava starch, potato starch and biodegradable polymers (bio-polymers). Bioplastics are utilized in the packaging, food services, agriculture and horticulture, medicine, consumer electronics and therefore the automotive industries.
Biodegradable plastic is plastic that decomposes naturally within the environment. This is often achieved once microorganisms within the atmosphere metabolize and break down the structure of biodegradable plastic. The end result's one that is less harmful to the atmosphere than traditional plastics.
The bioplastics prepared from corn and cassava starch granules were found to exhibit properties that are comparable to the already available commercial packaging materials. The bioplastics were also found to be soluble in water and degradable in soil by conducting respective tests, thereby making it environment-friendly.
Applications
The main applications of biodegradable plastics are presently in (food) packaging, food service ware, (shopping) bags, garbage bags, fibres/nonwovens and agricultural applications. These materials were developed to reduce plastic waste and are biodegradable or rather compostable. Target applications were in products with a relatively short useful life (packaging and disposables) and in applications wherever biodegradability was beneficial (agriculture). The increasing awareness of the environmental impact of packaging products and a willingness to replace packaging materials by alternatives with e.g. a lower carbon foot print or made up of renewable resources are the main driver for development and therefore the use of these materials.
Starch granules use for packaging of Food waste bags, translucent grocery bags, garbage bags, shopping bags, Vegetables and fruits bags.
Biodegradable plastics bags have seen their use are:
Garbage
Agriculture and horticulture
Shopping
Nursery products
Toys
Textiles
Features
PLA is a thermoplastic, meaning that it can be melted and reshaped without significantly degrading its mechanical properties. Hence, PLA is mechanically recyclable.
It is derived from renewable resources, a sharp contrast to the petroleum-based plastics, which have a finite availability.
(Close to) carbon neutral: its renewable sources actually absorb carbon.
It does not release toxic fumes when oxygenated.
Economic potential: bio-plastics offer a growing market, with opportunities for job creation and development of rural areas, estimates that by 2030 up to 300,000 highly skilled jobs will be created in the bio-market, more than 10 times its current numbers.
Advantages
Biodegradable plastics take less time to break down
Biodegradable plastics are renewable
Biodegradable plastics are good for the environment
Biodegradable plastics require less energy to produce
Biodegradable plastics are easier to recycle
Biodegradable plastics are not toxic
Biodegradable plastics reduce dependence on fossil oil
Reduced CO2Emissions
Cheaper Alternative
Waste
Benefit to Rural Economy
Reduced Carbon Footprint
Multiple end-of-life Options
Compostability
Reduction of emission of greenhouse gas levels
Market Outlook
A substantial issue of the non-recyclable waste majorly caused because of the disposal of traditional plastics across the globe has resulted into harmful effect in the atmosphere. This has considerably helped in fuelling the demand and growth for the worldwide biodegradable plastics bags & sacks market. The breakdown of the biodegradable plastics is probably going to be feasible with only the natural methods similar to with the help of microorganisms and composting. This is often expected to be one of the most remarkable factors of biodegradable plastic bags & sacks and is, therefore, a significant aspect to propel the market growth.
Packaging is one in every of the leading end-use segments for perishable plastics and is used in each rigid packaging and flexible packaging. Replacement of conventional plastics by these product in food packaging similar to boxes, wraps, cups, and plates is gaining momentum, which is supporting the growth of the biodegradable plastic market.
Related Projects: – Biodegradable Products, Recyclable, Disposable, Eco-Friendly Plastics
The global biodegradable plastic packaging market was valued at USD 4.65 billion in 2019, and is expected to reach a market value of USD 12.06 billion by 2025, registering a CAGR of 17.04% during the forecast period of 2020-2025. Growing environmental concerns regarding plastic usage that consists of toxic pollutants which are harming plants, animals, and people are driving the use of biodegradable plastic.
Related Videos: – Biodegradable Plastic Bag Manufacturing Industry
Bioplastic Carry Bags and Garbage Bags Production
Even though the factors similar to growing consumer preference toward eco-friendly plastic products as well as increasing government emphasis on the utilization of biodegradable plastics are driving the worldwide biodegradable plastics market, the higher cost of biodegradable plastics and shortcomings of biodegradable plastics are anticipated to dampen the market growth. The growing use of biodegradable plastics in the food and beverages business, as well as rapid growth of packaging business, is expected to develop new market growth opportunities for the worldwide biodegradable plastics market in the forthcoming years. The U.S. accounted for the most important market share in bio-degradable bags mainly because of increasing issues regarding the environment in people, which is anticipated to fuel the worldwide market in future.
Related Books: – Environmentally Friendly, Eco-Friendly Products, Natural Products, Biodegradable Plastics
Key Players:-
Smurfit Kappa Group, Mondi Group, BASF SE, WestRock Company, Georgia-Pacific, Metabolix, Inc., Cereplast Inc, ALPAGRO Plastics N.V, Novamont S.p.A, Bio Bag Americas, Inc., Biopak Pty Ltd., Thai Plastic Bags Industries Company Ltd., Polybags Ltd