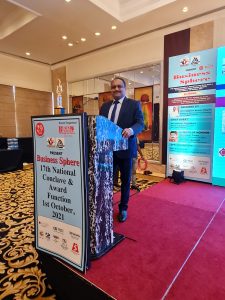 Mr. Ajay Kumar Gupta, President, NIIR Project Consultancy Services was acknowledged with the Business Sphere Award  by 𝑺𝒉. 𝑺𝒂𝒏𝒋𝒆𝒆𝒗 𝑲𝒓. 𝑩𝒂𝒍𝒚𝒂𝒏❟ 𝑴𝒊𝒏𝒊𝒔𝒕𝒆𝒓 𝒐𝒇 𝑺𝒕𝒂𝒕𝒆 𝒇𝒐𝒓 𝑨𝒏𝒊𝒎𝒂𝒍 𝑯𝒖𝒔𝒃𝒂𝒏𝒅𝒓𝒚❟ 𝑫𝒂𝒊𝒓𝒚𝒊𝒏𝒈 𝒂𝒏𝒅 𝑭𝒊𝒔𝒉𝒆𝒓𝒊𝒆𝒔 𝒂𝒏𝒅 𝑺𝒉. 𝑴𝒂𝒏𝒐𝒋 𝑻𝒊𝒘𝒂𝒓𝒊❟ Member of Parliament, Lok Sabha in Hotel Shangri-la, New Delhi-110001 for being amongst leaders in imparting consultancy for startups of different industrial sectors.
Mr. Ajay's work has taken him across India as well as overseas with clients in addition. He has gained excellent popularity as a project management consultant in project planning and control techniques, undertaking team management, and Communications. As the president of the NPCS with a keen capacity to synthesize commercial enterprise approaches and adapt the project management know-how to numerous corporate environments, he has helped people define and streamline their commercial enterprise processes.
Mr. Ajay says that his goal is to assist his thousands of clients to obtain global-elegance competency and overall performance in undertaking management and delivery. He has a team of specialists that determines clients' modern abilities, develops a project management methodology tailored to clients' desires, and assists them in obtaining success. Whilst the experts working for him are knowledgeable and seasoned in the application of Agile practices as well as traditional Waterfall and Hybrid methodologies, he strongly believes in adapting practices, methodologies, tools, and strategies to clients' environments and real-life project scenarios.
Mr. Ajay has offered professional project management services to a number of clients worldwide. He has delivered value for money with the aid of offering the highest requirements of project management, utilizing his experienced project managers to realize commercial enterprise benefits and deliver the project to time, price and quality.  Mr. Ajay takes pride in presenting a tailor-made project management service that assists his clients in establishing their options, defining their project needs, and managing project delivery – He has become a trusted advisor for many.
NPCS offers caliber project teams for the project of all sizes and complexities. This levels from the provision of included multi-skilled teams to the appointment of single project managers. His award-winning mission teams plan and control each thing of the project life-cycle from concept to definition, implementation, and handover. The project management service includes the definition, leadership, planning, stakeholder control, control, and successful delivery of tasks on the clients' behalf.
Mr. Ajay's company has an excellent reputation for efficiently handling projects on time, on price range, and retaining required satisfactory requirements. He has always made sure that his clients' corporate goals and business benefits are realized via a controlled, well-managed, visible set of activities to attain the favored effects.
He always makes sure that Best practice is embedded in everything he does.
Visit our websites:
https://www.entrepreneurindia.co/