INDIA'S FARM EXPORTS OVER Rs. THREE LAKH CRORE DURING APR 2021-JAN 2022
Wheat exports surge nearly four times, rice top forex earner
Other cereals up 66 per cent; Cereal Preparations & Misc. Processed Items up 14 per cent
(Ministry of Agriculture & Farmers Welfare)
March 22, 2022
Growth in Agriculture and Allied Exports
The Government of India's consistent and concerted endeavours to usher into reforms for boosting agricultural exports have been highly fruitful. Despite the unprecedented global pandemic, India has been able to step in to meet the increased global demand, emerging as a significant global supplier of food and other essential agricultural products.[1]
Notwithstanding logistical challenges posed by COVID-19 pandemic, India's exports of Agricultural and Processed Food products rose by more than 23 per cent in terms of USD in the first ten months of the current fiscal (April 2020-January 2021) compared to the same period of the previous year.[2]
Looking at five-yearly growth, it is observed that the export of agriculture and allied products have increased from a total of Rs. 896708.84 crore during 2009-14 to Rs. 1193463 crores during 2014-19. The exports have already reached Rs. 855293 crore mark during 2019-22 period (Includes April- January 2021-22 figure) with the exports for the period April 2021 – January 2022 exceeding Rs. 3 Lakh Crore.
Start a Business in Food Processing and Agriculture Based Industry, Click Here
[1] https://commerce.gov.in/wp-content/uploads/2021/06/Reforms-to-promote-Agri-Export.pdf
[2] https://pib.gov.in/PressReleseDetailm.aspx?PRID=1803561

Source of data for 2009 to 2015 is Annual reports. For data beyond 2015, click here
The export of products under the Agricultural and Processed Food Products Export Development Authority (APEDA) ambit increased from USD 15,974 million during April 2020-January 2021 to USD 19,709 million during the period. It may be noted that the agriculture exports through APEDA comprise around 50 per cent of the overall agriculture export of the country.
The Ministry of Commerce & Industry has fixed the target for exports under APEDA basket products at USD 23,713 million in 2021-22.
The export of rice was the top forex earner at USD 7696 million during April-January 2021-22, growing 13 per cent over the corresponding period in 2020-21 when it touched USD 6,793 million.
The export of wheat recorded a huge surge at USD 1742 million during April-January 2021-22, growing 387 per cent over the corresponding period in 2020-21 when it touched USD 358 million, while other cereals registered a growth of 66 per cent by fetching USD 869 million during April-January 2021-22 over the corresponding period in 2020-21 when it touched USD 527 million.
For details on APEDA, click here
Read Similar Articles: Agriculture Industry
Meat, dairy and poultry products exports grew over 13 per cent standing at USD 3408 million in April-January 2021-22 compared to USD 3005 million in the corresponding ten-month period of 2020-21. Fruits and vegetables exports were up by 16 per cent to touch USD 1207 million during April-January 2021-22 against USD 1037 million in April-January 2020-21, while processed fruits and vegetables exports were up by 11 per cent to reach USD 1269 million during first ten months of 2021-22 against USD 1143 million in the corresponding period of the previous year.
Exports of cereal preparations and other processed food items grew by 14 per cent during April-January 2021-22 to touch USD 2956 million against USD 2599 million in April-January, 2020-21. The cashew exports also grew by 11 per cent to USD 383 million in the first ten months of current fiscal compared to same period previous year.

The significant rise in Agri-exports is seen as a testimony of the government's commitment to increase farmers' income through giving thrust on boosting exports of agricultural and processed food products of the country.
Related Feasibility Study Reports: Food Processing and Agriculture Based Projects, Snack Food, Frozen Food, Agro Processing Technology, Processed Food, Instant Food, Food Industry, Food Preservation, Canned Food, Packed Food, Ready to Eat Food, Cereal Food, Pickle, Spices, Grain Milling
The top ten agriculture and allied products exported under APEDA during 2014-2021 along with their values are as follows: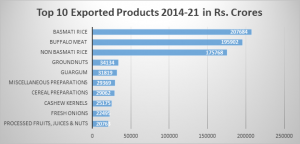 Source: APEDA
Below are the graphs showing increasing trends of exported Rice: The export of Basmati Rice saw a major increase from Rs. 86023 crores in 2009-14 to Rs. 131504 crores in 2014-19. The export has already reached Rs. 76180 crores in 2019-22 amid Covid pandemic.
The export of non-Basmati rice almost tripled from Rs. 41425 crores in 2009-14 to Rs. 111359 crores in 2014-19. It has already touched Rs. 78774 crore mark during 2019-22.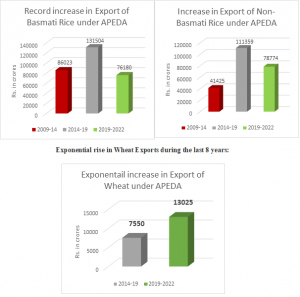 PROMOTION OF AGRICULTURAL EXPORTS:
It has been the constant endeavour of the Government to formulate policies and also provide the requisite support to export promotion bodies and the farmers so as to enable them increase exports of agricultural products from the country. To achieve this a slew of measures have been taken especially in the last seven years which have proved to be quite beneficial in pushing up exports:
Read our Books Here: Agriculture, Agro Based, Cereal Food, Milk, Cocoa, Chocolate, Ice Cream, Plantation, Farming, Food & Beverages, Fruits, Dairy, Confectionery, Vegetables, Spices, Oils & Fats, Bakery, Snacks, Fisheries, Meat, Coconuts, Potato and Potato Products, Rice Cultivation and Processing, Tea, Beekeeping and Honey Processing
Agriculture Export Policy
To promote the agricultural exports, the Government has introduced a comprehensive Agriculture Export Policy (AEP) with the following vision:
"Harness export potential of Indian agriculture, through suitable policy instruments, to make India a global power in agriculture, and raise farmers' income."
Inter-alia, the objectives of the Agriculture Export policy are as under:
To diversify our export basket, destinations and boost high value- and value-added agricultural exports, including focus on perishables.
To promote novel, indigenous, organic, ethnic, traditional and non-traditional Agri products exports.
To provide an institutional mechanism for pursuing market access, tackling barriers and dealing with sanitary and phytosanitary issues.
To strive to double India's share in world agri exports by integrating with global value chains.
Enable farmers to get benefit of export opportunities in overseas market.
Under the AEP, twenty-One States viz. Maharashtra, U.P., Kerala, Nagaland, Tamil Nadu, Assam, Punjab, Karnataka, Gujarat, Rajasthan, Andhra Pradesh, Telangana, Manipur, Sikkim, Uttarakhand, M.P., Mizoram, Meghalaya, Tripura, Arunachal Pradesh and Himachal Pradesh and the 2 UTs viz Ladakh and Andaman & Nicobar Islands have finalized the State specific Action Plans. 46 unique product-district clusters have been identified for export promotion. 29 Cluster Level Committees have been formed in cluster districts of different clusters. Country and product-specific action plans have also been formulated to promote exports.
Specific Export Promotion Forums 
Products Specific Export Promotion Forums give impetus to the export of potential products as well as to remove the bottlenecks in the supply chain, Agricultural and Processed Food Products Export Development Authority (APEDA) has formed Export Promotion Forums (EPFs) under the Chairmanship of Chairman, APEDA and having representatives of Department of Commerce, Department of Agriculture, State Governments, National Referral Laboratories and top 10 leading exporters of each product for the products, viz., Grapes, Onions, Mango, Banana, Pomegranate, Floriculture, Rice, Dairy Products and Nutri cereals.
Ministry of Commerce & Industry schemes
The Department of Commerce under Ministry of Commerce & Industry has also initiated several schemes to promote exports, including exports of agricultural products, viz. Trade Infrastructure for Export Scheme (TIES), Market Access Initiatives (MAI) Scheme, Merchandise Exports from India Scheme (MEIS) etc. In addition, assistance to the exporters of agricultural products is also available under the Export Promotion Schemes of APEDA, Marine Products Export Development Authority (MPEDA), Tobacco Board, Tea Board, Coffee Board, Rubber Board and Spices Board. Further, in order to boost honey exports, India has made NMR (Nuclear Magnetic Resonance) testing mandatory for honey exported to USA.
Watch other Informative Videos: Food Processing and Agriculture Based Projects
Central Sector Scheme for providing Transport and Marketing Assistance
The Government has brought out a new Central Sector Scheme – 'Transport and Marketing Assistance for Specified Agriculture Products' – for providing assistance for the international component of freight, to mitigate the freight disadvantage for the export of agriculture products, and marketing of agricultural products.
Farmer Connect Portal 
A Farmer Connect Portal has been set up for providing a platform for farmers, Farmer-Producer Organizations (FPOs) and cooperatives to interact with exporters. Buyer-Seller Meets (BSMs) have been organized in the clusters to provide export-market linkages. Regular interactions, through video-conferences, have been held with the Indian Missions abroad to assess and exploit export opportunities. Country specific BSMs, through Indian Missions, have also been organized.
Common Digital Platform
Common Digital Platform for Certificate of Origin has been launched to facilitate trade and increase FTA utilization by exporters.
Agri-Cells in Indian embassies abroad
Thirteen Agri-Cells in Vietnam, USA, Bangladesh, Nepal, UAE, Iran, Saudi Arabia, Malaysia, Indonesia, Singapore, China, Japan and Argentina were created in Indian embassies abroad to provide inputs on real time basis to enable us to improve Indian exports. Active role of Indian missions abroad towards promoting our trade, tourism, technology and investment goals has been enhanced.
For more information on Reforms to promote Agri- exports, click here
Source:
PIB Press Releases:
Further Reading:
See More Links:
Start a Business in Potential Countries for Doing Business
Best Industry for Doing Business
Business Ideas with Low, Medium & High Investment
Looking for Most Demandable Business Ideas for Startups
Start a Business in Middle East