Manufacturing of Truck Mud Flaps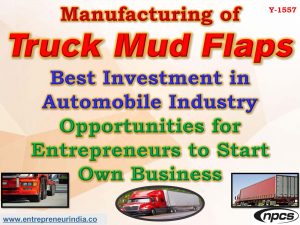 Manufacturing of Truck Mud Flaps. Best Investment in Automobile Industry. Opportunities for Entrepreneurs to Start Own Business.
A mud flap or mud guard is used in combination with the vehicle fender to protect the vehicle, passengers, other vehicles, and pedestrians from mud and other flying debris thrown into the air by the rotating tire. A mud flap is typically made from a flexible material such as rubber that is not easily damaged by contact with flying debris, the tire, or the road surface. A flap that hangs down behind a vehicle's wheel so that mud and other things kicked up by the wheel will hit the flap instead of a vehicle behind.
Mud flaps are vehicle accessories used widely in all types of vehicles and are available in various styles. You can keep your vehicle cleaner and protect finish from corrosion by using mud flaps. Mud flaps have today emerged as a popular means of self-expression by various automotive companies. As with many other after-market vehicle accessories, automotive stores supply a wide range of mud flaps featuring varied images like familiar logos, cartoon characters and short sentiments that are usually found in bumper stickers. For some automobile companies, there are custom mud flaps featuring their name and contact information.
Mud flaps are rubber mats which are fixed directly behind the wheels of cars, trucks and other vehicles. Also known as mud guards or splash guards, mud flaps are a great and a useful feature to have on your pickup truck, SUV, and even your car or your scooter. They are not only the standard accessories for passenger vehicles, but also for all commercial trucks. They are used as safety features on the road. Heavy-duty mud flaps are made from durable polymer materials. Types of Mud Flap: – Mud Flaps, Splash Guards, Type of Truck:-Heavy Duty Truck, Medium Duty Truck, Light Duty Truck.
Uses
A mud flap or mud guard is used in combination with the vehicle fender to protect the vehicle, passengers, other vehicles, and pedestrians from mud and other flying debris thrown into the air by the rotating tire. A mud flap is typically made from a flexible material such as rubber that is not easily damaged by contact with flying debris, the tire, or the road surface. Mud flaps can be large rectangular sheets suspended behind the tires, or may be small molded lips below the rear of the vehicle's wheel wells. Mud flaps can be aerodynamically engineered, utilizing shaping, louvers or vents to improve airflow and lower drag.
Related Projects: – Automobile Industry and Auto Components, Automotive components,
Market Outlook
Over the decades, the world has experienced momentous demand for automobile. Growing urbanization is estimated to constantly increase the demand for global automotive sector resulting into increasing demand for automotive mud flap in the global market. OEM's are upgrading themselves to cope up with new trends and demands raised by the consumers. In recent scenario, automobile sector is focusing on reducing the weight of the components with increased strength. For instance, the recent emerging trend for composite material of automotive mud flap is carbon fiber that has advantages such as less weight and superior strength, which is the prerequisite in the automotive mud flap market.
On the other hand, the changing government norms in many countries, such as India, China, etc. concerning the usage of plastic fiber that are not decomposable projected to affect the production of PVC mud flaps. This factor is anticipated to hamper the growth of the automotive mud flaps market. Fluctuating prices of raw materials like PVC, Thermoplastic is expected to affect the manufacturing cost of automotive mud flap which is estimated to affect the sales of automotive mud flap market. Automotive mud flap manufacturers are adopting carbon fiber as their raw material which is comparatively expensive as compared to its counterparts. However, in developing and underdeveloped economies, the procurement of the carbon fiber automotive mud flap is estimated to be in its introductory phase and is estimated to evolve over the forthcoming years.
Aerodynamic engineering is one of the most adaptive and popular trend in the automotive industry. Aerodynamic engineering of automotive mud flap is improving day by day to reduce the air drag and improve the airflow. Automotive mud flap is in aerodynamic shape that reduces the drag and it is designed in such a way that improves airflow between tire and mud flap. Aerodynamically improved automotive mud Flap design can improve the fuel efficiency by 2%. In the coming years, Mud Flaps & Splash Guards market will continue to focus their efforts on product innovation in order to attract new consumers and keep existing consumers loyal to specific brands.
The market is currently experiencing double digit growth rates and is catalyzed by a number of factors. Trucks offer numerous advantages over railways. For instance, in contrast to rail transport, trucks can accept products in smaller quantities, they can also reach rural and hilly regions and also require less time than the rail for the loading and unloading of the products. Additionally, India's strong economic growth has also been a major driver of the truck industry. The strong economic growth has further catalyzed the growth of sectors such as infrastructure, real estate, logistics, mining, etc. Other factors that are driving this market include rising incomes, urbanization, growth in the rural economy, e-commerce, etc. Looking forward, we expect the Indian truck market to reach sales worth US$ 17,870 Million by 2023, exhibiting a CAGR of 12% during 2019-2024.
The growing construction and e-commerce activities have increased the demand for material transportation, which, in turn, has resulted in the increased sales of used trucks, across the world, over the past three years. The advent of trucks with higher power and advanced features, like airbag occupancy sensor, air conditioning, cruise control systems, ABS and driveline traction control, and electronic stability, makes this one of the preferred choices for commercial and material handling, for vehicles in the construction and manufacturing sector. The global construction industry is expected to witness a significant growth in the coming years, with good opportunities emerging from the infrastructure, residential, and non-residential sectors.
Increasing freight transportation demand owing to proliferating economic conditions and globalization across the globe are positively influencing the heavy-duty trucks market share over the projected timeframe. Growing domestic and international trade activities are providing potential opportunities for the expansion of business operations globally. Rapid industrialization is resulting in large scale production and distribution of goods further generating the demand for expanded transportation fleet size. Changing trade policies coupled with improvements in logistics and supply chain management are propelling the heavy-duty trucks market share.
In terms of technology, the global hybrid trucks market can be classified into series hybrid, parallel hybrid, plug-in hybrid, and series-parallel hybrid. Plug-in hybrid is the lucrative segment of the market. This is primarily due to the advancements in technology to charge the truck via plug-in connection at the charging station, thereby reducing the complexity of recharging the hybrid truck. The segment is expanding at a rapid pace, owing to its benefits of being able to conduct short trips entirely in the electric mode, thereby reserving gasoline for longer trips.
Related Books: – Automobile Industry
Key Players
ARB, Dee Zee, Lund International, Stillen, Husky Liners, Truck Hero, Warrior, Agri-Cover, TAG, WeatherTech, Dayco, Street Scene, ProMaxx Automotive, Rek Gen, Tata Motors Limited, Ashok Leyland Limited, VE Commercial Vehicles Limited, Mahindra & Mahindra Limited, SML Isuzu Limited, Daimler India Commercial Vehicles Pvt. Ltd, AMW Motors Ltd., MAN Truck & Bus, Hino Motors Sales India Private Limited and Scania Commercial Vehicle India Pvt Ltd.
For More Details, Click Here: https://niir.org/profile-project-reports/profiles/automobile-industry-auto-components-automotive-components-spare-parts-auto
-parts-car-parts-replacement-parts-tractor-parts-motorcycle-parts-auto-body-parts-two-wheeler-three-wheeler-four-wheeler-parts-accessories-amp-spares-projects/z,,2f,78,a/index.html?_sort_by=default