Manufacturing of ABC (Aerial Bundled Cable) Conductors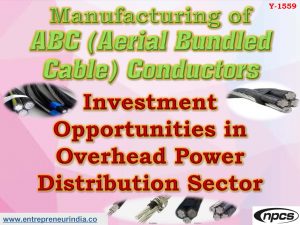 Manufacturing of ABC (Aerial Bundled Cable) Conductors. Investment Opportunities in Overhead Power Distribution Sector.
Aerial bundled conductors or simply ABC are overhead power lines using several insulated phase conductors bundled tightly together, usually with a bare neutral conductor. Aerial Bundled Cable (ABC) is an innovative concept for Over Head (OH) power distribution. This variation of overhead power lines utilizes the same principles as bundled conductors, except that they are closer together to the point of touching but each conductor is surrounded by an insulating layer (except for the neutral line).
Aerial Bundled Conductor cables can be used to replace bare conductor cables in overhead distribution systems. It is ideal for use in urban areas with congested power distribution and narrow lanes and by-lanes. The latest systems are used in the construction of ABC cables and intensive quality testing is done to ensure safety and reliability.
Type of Aerial Bundled Conductor:-
Above 1kv
1-15kv
Above 15kv
Advantages:-
Relative immunity to short circuits caused by external forces (wind, fallen branches), unless they abrade the insulation.
Can stand in close proximity to trees/buildings and will not generate sparks if touched.
Little to no tree trimming necessary
Simpler installation, as crossbars and insulators are not required.
Ease of erection and stringing, less labor intensive, less construction resources needed.
More aesthetically appealing.
At junction poles, insulating bridging wires are needed to connect non-insulated wires at either side. ABC can dispense with one of these splices.
Less risk of a neutral-only break from tree or vehicle damage, increasing safety with TNC-s systems.
Significantly improved safety for linespersons, particularly when working on live conductors.
Electricity theft is made harder, and more obvious to detect.
Less required maintenance and necessary inspections of lines.
Improved reliability in comparison with both bare conductor overhead systems and underground systems. Insulated conductors prevent accidental contact and supply can be maintained temporarily in the event of a suspension system collapse.
Related Projects: – Wire & Cable Projects
Market Outlook
In the field of product application, environmental protection has become the common external pressure and development trend faced by cable manufacturers all over the world in recent years. The United States, Japan and Europe are in the leading position and development and manufacture of environmental-friendly cables in the world, and the production technology is relatively mature. By the European Union requires that harmful substances such as lead, mercury, cadmium, hexavalent chromium, polybrominated diphenyl ethers and polybrominated biphenyls be prohibited from being used in new electronic and electrical equipment put on the market.
The worldwide Aerial Bundled Cable market size (value, capacity, production and consumption) in key regions like United States, Europe, Asia Pacific (China, Japan) and other regions. Aerial Bundled Cables are overhead power lines using several insulated phase conductors bundled tightly together, usually with a bare neutral conductor.
Cables & Conductors are one of the essential components required for the development and strengthening of any country's T&D network. The cables and conductors market in India has grown at a significant rate in the past few years on the back of investments in the power and infrastructure sectors. The current manufacturing base is well established with a large number of organized players.
As of today, due to growing emphasis on developing a robust T&D network in the country to meet the rising demand for reliable power, a number of government initiatives and programmers have been undertaken that have helped create a positive market for cables and conductors in the country. As per various estimates, it is expected that the industry which has been growing at the rate of around 15 percent currently will start growing at the CAGR of over 20 percent over the next five years.
Though increasing industrialization and growing population requirement for reliable and efficient power supply have kept demand high for cables and conductors.  Going forward, looking the investments infused in the power and infrastructure sectors by the government and various initiatives undertaken, this demand trend is expected to continue for the industry in the future as well. The world's market value of cables has reached around $181.3 billion in 2018 which increased by 4%. It is projected to reach about $210.47 Billion in 2021, at a CAGR of 4.5-5 percent, from 2018 to 2021.
Increasing demand for electricity in the emerging and developed countries, backed by increasing investment in infrastructure, is expected to drive the cables market globally. However, slowdown of economy and regulatory policies for interconnection arrangements have been hindering the market growth.
Urbanization is one of the major reasons for the overall growth of the cables market. The need for power grid interconnections in densely populated areas is creating a demand for submarine and underground cables. The underground cables reduce space required and offer reliable transmission of electricity. Environmental regulations that observe the impact of electrical cables on the environment, the safety of electrical installations, implications for the health of the materials used for cable manufacturing have led to various innovation and new product development. These regulations have encouraged the introduction of new products such as halogen-free flame retardant compounds and implement new processes with low energy consumption and efficient use of raw materials.
Market & Technology:-                                                           
Overall, the cables and conductors industry has grown significantly in the past few years with investments infused in the power and infrastructure sectors by the government. While the cable segment witnessed a positive growth, the conductor segment experienced sluggish demand last year. Across cable sub-categories, the power cables segment registered a growth of 5.2 percent in 2016-17, while the control cables segment saw a decline of 3.4 percent. However, the first half of 2017-18 saw a reversal of trends wherein the high voltage power cable growth tumbled by 7 percent and the control cable segment grew by 2.9 percent.
The cable segment is the shift towards high voltage transmission lines. This demand is essentially driven by the creation of high capacity long distance corridors to deliver electricity to high demand regions and the development of green energy corridors for integrating the increasing share of renewable energy into the grid. Further, underground cabling is gaining increased acceptance among state and central transmission utilities as it provides greater safety (against electrocution) as compared to overhead cables.
On the technology front, the industry is witnessing a number of new technology being introduced to enable utilities to augment their capacities without encountering the issues of right-of-way (Row) clearances. Further, due to the risks associated with bare overhead cables, covered cables have been gaining importance in the market. Cross-linked polyethylene (XLPE), high-density polyethylene, aerial bunched cables and spacer cable systems are some of the most commonly used covered cables.
In addition, an emerging technology trend of high-temperature low sag (HTLS) conductors is witnessing a greater adoption by the utilities. These conductors not only enhanced the operational efficiency but can also be used for the purpose of reconductoring the existing lines that enable utilities to transmit a higher quantum of power through existing corridors and can significantly scale down losses as well as instances of power outages. Further, to increase the current carrying capacity and scale down the transmission losses, utilities are turning to high-temperature superconductors (HTS) that have 5 to 10 times the current carrying capacity as compared to conventional conductors.
Gas-insulated lines (GILs) that can be installed under the ground as well as in tunnels and trenches are today a well-accepted technology trend in the overseas market. Due resistive losses of GILs being lower than overhead lines and other types of underground cables, they offer greater reliability with no risk of fire. This technology can serve as a viable alternative to overhead lines where Row is not available for the transmission of electricity. However, it is still waiting to see a widespread adoption in the domestic market.
Applications:
Power System
Industrial Use
Commercial Use
Residential Use
Medium voltage Aerial bundled cables are mainly used for secondary overhead lines on poles or as feeders to residential premises. Cable market by application is categorized into Internet data transfer, video distribution and radio frequency transfer. Data is transferred at high speed over internet using coaxial cables. This data transferred over internet includes applications, videos, audio, documents, etc. Many high speed fiber internet connections are also using coaxial technology. These coaxial cables are also widely used in television cable industry and do have wide application in radio frequency transfer. The absence of interference in coaxial cable is what makes it one of the most reliable choices for transmitting radio signals.
Aerial Bundled Conductor cables can be used to replace bare conductor cables in overhead distribution systems. It is ideal for use in urban areas with congested power distribution and narrow lanes and by-lanes. The flexible system is much easier than conventional overhead power lines to re-route when demanded by changes in urban development plans. We can provide you the best aerial bundled cable price, you can contact us.
It provides a higher level of safety in difficult terrain including forest areas, coastal areas, and hilly areas. In climates with a high level of moisture accelerated tree growth becomes a significant problem increasing the risk of bush fires. If aerial bundled conductors are touched by tree branches they will not arc over. There are many types of ABC cable, but their application is the same.
Key Players:
Nexans France, ZMS Cable Group, EMTA Conductor and Cable, Feiniu Cable, Fifan Cable Group, JYTOP Cable, Anamika Conductors, Tonn Cable Sdn Bhd, Huatong Cable, Jiangsu Boan Cable, Jinshui Cable Group, Henan Tong-Da Cable, Luoyang Da Yuan Cable, China Anhui Electric Group Shares, People's Cable Group, Shanghai Bluewin Wire and Cable, Hengfei Cable, WuXi Jiangnan Cable, Zhejiang Kukun Group, Zhengzhou Jinyuan Wire and Cable Group, Huadong Cable Group.
For More Details, Click Here: https://niir.org/profile-project-reports/profiles/wire-amp-cable-projects/z,,76,28,a/index.html?_sort_by=default