Major Boost to Agriculture Sector in Budget 2022 
Slew of multi modal developments during Amrit Kaal to benefit farmers
(Ministry of Agriculture & Farmers Welfare)
February 03, 2022 
Procurement of Wheat/Paddy at Minimum Support Price (MSP)
1208 lakh metric tonnes – Procurement of wheat in Rabi 2021-22 and the estimated procurement of paddy in Kharif 2021-22
2.37 lakh crore direct payment of MSP value to be credited in account of 163 lakh farmers 
PM Kisan gets higher funding
Start a Business in Food Processing and Agriculture Based Industry, Click Here
New Initiatives
Chemical-free Natural Farming to be promoted throughout the country, with a focus on farmers' lands in 5-km wide corridors along river Ganga, at the first stage
2023 announced as International Year of Millets: Support will be provided for post-harvest value addition, enhancing domestic consumption, and for branding millet products nationally and internationally
A rationalized and comprehensive scheme to increase domestic production of oilseeds to be implemented to reduce dependence on imports.
Trend in production of oilseeds in million tonnes is given below: 
Technology & Innovation
Scheme for delivery of digital and hi-tech services to farmers with involvement of public sector research and extension institutions along with private agri-tech players and stakeholders of agri-value chain will be launched in PPP mode
Use of 'Kisan Drones' to be promoted for crop assessment, digitization of land records, spraying of insecticides, and nutrients
Startups to be promoted to facilitate 'Drone Shakti' through varied applications and for Drone-As-A-Service (DrAAS). In select ITIs, in all states, the required courses for skilling to be started
Read Similar Articles: Agriculture Industry
Capacity Building
States to be encouraged to revise syllabi of agricultural universities to meet the needs of natural, zero-budget and organic farming, modern-day agriculture, value addition and management
Fund for Agriculture / Rural Enterprise Start Ups: A fund with blended capital, raised under the co-investment model to be facilitated through NABARD. This is to finance startups for agriculture & rural enterprise, relevant for farm produce value chain. The activities for these startups will include, inter alia, support for FPOs, machinery for farmers on rental basis at farm level, and technology including IT-based support.
Infrastructure Development
Implementation of the Ken-Betwa Link Project, at an estimated cost of Rs. 44,605 crores to be taken up
This is aimed at providing:
Irrigation benefits to 9.08 lakh hectare of farmers' lands
Drinking water supply for 62 lakh people
103 MW of Hydro
27 MW of solar power
Allocations of Rs. 4,300 crores in RE 2021-22 and Rs. 1,400 crores in 2022-23 made for this project.
Draft DPRs of five river links, namely Damanganga-Pinjal, Par-Tapi- Narmada, Godavari-Krishna, Krishna-Pennar and Pennar-Cauvery finalized.
Centre to provide support for implementation after a consensus is reached among the beneficiary states
Related Feasibility Study Reports: Food Processing and Agriculture Based Projects, Snack Food, Frozen Food, Agro Processing Technology, Processed Food, Instant Food, Food Industry, Food Preservation, Canned Food, Packed Food, Ready to Eat Food, Cereal Food, Pickle, Spices, Grain Milling
BharatNet Project – Optical Fibre for all Villages
To ensure that all villages and their residents have the same access to e-services, communication facilities, and digital resources as urban areas and their residents.
Contracts for laying optical fibre in all villages, including remote areas, to be awarded under the Bharatnet project through PPP in 2022-23. Completion expected by 2025.
Act East Policy
A new scheme, Prime Minister's Development Initiative for North- East, PM-DevINE, to be implemented through the North-Eastern Council to:
fund infrastructure, in the spirit of PM GatiShakti, and social development projects based on felt needs of the North-East
enable livelihood activities for youth and women, filling the gaps in various sectors. It will not be a substitute for existing central or state schemes.
Initial allocation of Rs. 1500 crores to be made and the initial list of projects to include:
NECTAR Livelihood Improvement Project (Multi-State) – Rs. 67 Crores
Promoting Scientific Organic Agriculture in North East Indian (Multi-State) – Rs. 45 Crores
Read our Books Here: Agriculture, Agro Based, Cereal Food, Milk, Cocoa, Chocolate, Ice Cream, Plantation, Farming, Food & Beverages, Fruits, Dairy, Confectionery, Vegetables, Spices, Oils & Fats, Bakery, Snacks, Fisheries, Meat, Coconuts, Potato and Potato Products, Rice Cultivation and Processing, Tea, Beekeeping and Honey Processing
Land Resource Management
Efficient use of land resources is a strong imperative. States to be encouraged to adopt Unique Land Parcel Identification Number to facilitate IT-based management of records. The facility for transliteration of land records across any of the Schedule VIII languages also to be rolled out.
The adoption or linkage with National Generic Document Registration System (NGDRS) with the 'One-Nation One-Registration Software' to be promoted as an option for uniform process for registration and 'anywhere registration' of deeds & documents.
Key Takeaways from Economic Survey 2021-22 
The agriculture sector experienced buoyant growth in past two years, accounting for a sizeable 18.8% (2021-22) in Gross Value Added (GVA) of the country registering a growth of 3.6% in 2020-21 and 3.9% in 2021-22.
Minimum Support Price (MSP) policy is being used to promote crop diversification.
Net receipts from crop production have increased by 22.6% in the latest Situation Assessment Survey (SAS) compared to SAS Report of 2014.
Allied sectors including animal husbandry, dairying and fisheries are steadily emerging to be high growth sectors and major drivers of overall growth in agriculture sector.
The Livestock sector has grown at a CAGR of 8.15% over the last five years ending 2019-20. It has been a stable source of income across groups of agricultural households accounting for about 15% of their average monthly income.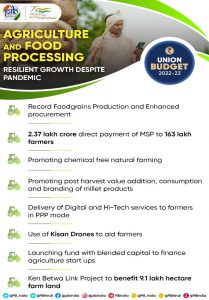 Watch other Informative Videos: Food Processing and Agriculture Based Projects
Government facilitates food processing through various measures of infrastructure development, subsidized transportation and support for formalization of micro food enterprises.
India runs one of the largest food management programmes in the world.
Government has further extended the coverage of food security network through schemes like PM Garib Kalyan Yojana (PMGKY).
 
Source:
Further Reading:
See More Links:
Start a Business in Potential Countries for Doing Business
Best Industry for Doing Business
Business Ideas with Low, Medium & High Investment
Looking for Most Demandable Business Ideas for Startups
Start a Business in Middle East