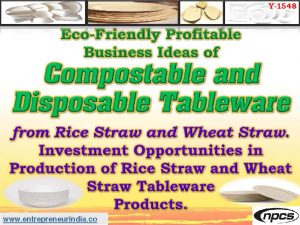 Eco-Friendly Profitable Business Ideas of Compostable & Disposable Tableware from Rice Straw and Wheat Straw. Investment Opportunities in Production of Rice Straw and Wheat Straw Tableware Products.
Straw is an agricultural byproduct consisting of the dry stalks of cereal plants after the grain and chaff have been removed. It makes up about half of the yield of cereal crops such as barley, oats, rice, rye and wheat. Wheat straw is the stalk left over after wheat grains are harvested. Traditionally, it has been treated as a waste. In some countries, farmers burn it, contributing to air pollution and creating a public health hazard.
However, these stalks still have value. We reclaim this material and use it to make our wheat straw products. These products are prevalent in fast food restaurants, takeaways, but also for airline meals. In private settings, this kind of disposable products has proven very popular with consumers who prefer easy and quick cleanup after parties, etc. Wheat straw contains cellulose which can be broken down and reprocessed into a number of different polymers that are often called bio plastics. Note that bio plastics are not necessarily compostable and the term bioplastic is sometimes loosely applied.
Hundreds of different fibrous plants can be manufactured into alternatives to tree-based paper products, most notably wheat, rice, hemp, flax, and sugar cane. In many agricultural processes, straw is treated merely as the agricultural waste that remains after grain or juice is extracted from crops. For World Centric, straw is a valuable resource that can be fashioned into disposable products like plates, take out containers, bowls etc.
Biodegradable Tableware is the cutlery and crockery or tableware which are compostable and easily degradable by the action of microbes. These are made up of sugarcane bagasse, bamboo, paper pulp, bagels, rice husk, coconut coir, and other disposable material viz. biodegradable plastic.
Related Project: Biodegradable Products, Recyclable, Disposable
Market Outlook
Biodegradable tableware, as the name suggests, are fully compostable and biodegradable; hence, they are widely used globally in order to reduce plastic waste and greenhouse emissions, such as methane emissions. This type of tableware can be made from sugarcane bagasse, bamboo, paper pulp, and other disposable material. These tableware are superior in strength and are environment friendly. Biodegradable tableware include food containers and tableware such as bowls, plates, cups and meal trays, which decompose within 30 to 60 days after being discarded.
Increasing preference for environment-friendly tableware and rising concerns regarding the ill-effects of plastic tableware are boosting the biodegradable tableware market. Rising emphasis on non-toxic & petroleum-free is expected to drive the demand for Biodegradable Tableware in the residential and commercial segments. Rising disposable income along with increasing consumer awareness about the benefits associated with the use of biodegradable tableware is expected to drive the market.
Additionally, increasing economic awareness about the use of plastic and other toxic material tableware, in terms of their price, among consumers provides them the benefit of choice and also simultaneously creates competition in the market in order to produce best quality products. In India, biodegradable products made from bamboo were traditionally used in rural areas; over the years, this trend has spread to the urban areas as well. However, in certain parts of the globe, these tableware, especially those made from bamboo, are expensive. Consumer product packaging and disposable eating products made of biodegradable material such as corn, sugarcane, husk, and other plant bases possess numerous environmental advantages over non-biodegradable products. These factors coupled with rising investment and development is anticipated to boost to the market.
The global biodegradable tableware market can be segmented based on material, product type, distribution channel, and region. Based on material, the biodegradable tableware market can be classified into paper, bagasse, bamboo, palm leaf, wheat bran, and others (wheat, straw, paper pulp, etc.). In terms of product type, the global biodegradable tableware market can be divided into cups, plates, bowls, silverware, and others (straws and stirrers, flatware, etc.). Based on distribution channel, the market can be bifurcated into online and offline [large format stores, (hypermarkets, supermarkets, departmental stores), specialty stores, small retail stores].
Compostable tableware's products are used for serving food. These products are biodegradable and release valuable nutrients into the soil, aiding the growth of trees and plants when they breakdown. Compostable plates can be placed into the compost bin after use. These products degrade within several months in an industrial composting facility and produce no toxic residues. These plates are reusable and are made up of renewable resources. These renewable sources are made from all-natural materials such as agricultural residues, palm leaves, bagasse, bamboo, and cornstarch-based PLA plastic. These eco-friendly tableware's are sturdy enough to hold hot or cold food and easily gets biodegraded after use.
Compostable plates and bowls are the perfect solutions for emerging green businesses. The growing awareness about the adverse effects of plastic such as massive plastic pollution and its grave consequences on aquatic and aerial creatures after dumping this product into the sea are the major driving factors for the growth of compostable tableware market. The increasing demand for safe, sustainable and environmental friendly cutlery owing to the rising number of fast food restaurants and cafeterias is boosting the compostable tableware market.
Compostable disposables are a viable alternative that provides the convenience of disposable plates when used in catering for parties, picnics or other occasions along with an added advantage of no negative impact to the eco-system. However, the lack of awareness about the benefits of compostable tableware's and the poor management of organic waste hampers the growth of compostable tableware market. The cost of compostable tableware is also higher as compared to the traditional disposables. Moreover, the rising enforcement of environmental laws and the growing need for better waste management is anticipated to create an opportunity for the growth of compostable tableware market.
The geographies, Asia Pacific dominates the compostable tableware market owing to the growth of the compostable tableware producing companies in this region. In addition, the governmental initiatives to promote the usage of environment-friendly products are also anticipated to boost the growth of the compostable tableware market in the Asia-Pacific region. Europe is also one of the fastest growing regions, owing to the huge investments and development by private as well as government sectors in the development of compostable tableware market.
The global compostable tableware market covers segments such as type and end-user. On the basis of type, the global compostable tableware market is categorized into bowl and lids, cups and lids, portion cups and lids, containers and lids, plates, reusable dishware, straw and cup sleeves, compostable spoons, and others. On the basis of end-user, the global compostable tableware market is categorized into household, food joints & takeaways, hotels, and others.
The biodegradable tableware is the eco-friendly tableware which is made from waste materials like sugarcane bagasse, rice husk, coconut coir. The rise in awareness of the environment pollution drives the biodegradable tableware market globally. However, consumer behavior towards the use of the biodegradable cutlery could be the challenge for the market. Increasing demand for the foodservice industry might create an opportunity for the market in the coming future. However, the cost of biodegradable tableware is very high as compared to conventional cutlery and crockery. Thus, the high cost of biodegradable tableware might hamper the market.
Currently there are enormous waste of disposable tableware around the world, especially in the developing countries; with more and more consumers having strong environmental protection consciousness and the government continuously promulgate legislation to protect the environment to reduce waste. In future more and more disposable tableware will be made of the bioplastic like PLA resin, CPLA (modified PLA), and Starch Blends etc. and the bioplastic tableware will play more and more important roles.
Plastic straw consumption in the world was increasing by leaps and bounds before the last 2-3 years. However, rising intolerance towards plastic straws, growing consumer demand for eco-friendly straws and globally increasing government reforms and campaigns to ban plastic straws are likely to offer a positive outlook for the paper straws market. On-the-go consumers demand more than convenience from their products. They are increasingly aware of their choices and are picking more sustainable options.
More than ever, consumers are demanding flexibility in their meal options. Generally, they are looking for speed and convenience. The availability of online ordering and delivery services allows the enjoyment of eating out while still tending to their busy lives. As this trend continues to rise, the establishments that serve them must be prepared to package a meal for takeout or delivery while ensuring the best eating experience for their guests. This includes containers, wraps and bags, among others. The single-use items utilized must prevent spills, provide convenience, and best represent the image that the foodservice establishment is trying to achieve.
World Centric plant-fiber food service products are currently made from wheat straw. In the past, we relied more heavily on bagasse (sugar cane fiber that remains after juice is extracted) and we may shift to other plant inputs in the future, as the market for agricultural waste grows and changes. The wheat straw that we use comes from the stalks of wheat plants. The stalks of wheat plants do not store protein, gluten, or allergens. Those are stored in the grains, and our products do not contain gluten or allergens. Our products meet FDA standards for food contact, and they meet FDA standards for gluten-free, non-allergenic products.
Disposable cups made from bio plastics or other such materials is predicted to garner surplus demand in the years to come. Such favorable consumer preferences, coupled with rising consumption of fast in the world, will also continue consolidating the growth of global disposable cups market. Global market for disposable cups projects that by the end of 2026, more than US$ 21.2 Bn worth of disposable cups will be sold globally.
Key Players
Huhtamäki Oyj,
Hoffmaster Group Inc. (Aardvark),
Biopac UK Ltd,
Vegware Ltd,
S. Paper Straw, T
he Paper Straw Co,
Austraw Pty Ltd T/as Bygreen,
Footprint LLC, Okstraw,
Transcend Packaging Ltd,
Strawland,
TIPI Straws,
MPM Marketing Services Pty Ltd,
Canada Brown Eco Products Ltd,
Aleco Straws Co. Ltd,
Zhengzhou Gstar Plastics Co., Ltd,
YIWU JinDong Paper Co., Ltd,
Sharp Serviettes,
GP Paper Straw Sdn Bhd,
The Blue Straw.
Production Capacity              :                  5 Ton / Day
Plant and Machinery Cost      :                  21 Crore             
See More
https://niir.org/profile-project-reports/profiles/biodegradable-products-recyclable-disposable-eco-friendly-plastics-bioplastics-compostable-biodegradable-packaging-for-food-products-bio-based-polymers-oxo-biodegradable-plastics-bio-nanocomposites-using-maize-corn-sugarcane-bagasse/z,,5a,0,a/index.html