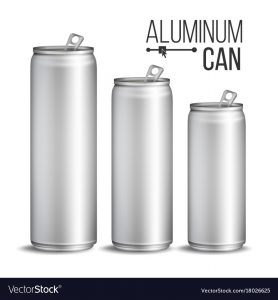 Global Market Demand of Aluminum Cans for Brewery Industries
Aluminum cans, known is also tin cans are containers made from aluminum used for packaging. These are majorly used for packing foods and beverages, such as soup and milk, alongside chemicals, oils, and different other liquids. The rising number of health-conscious consumers and the growing preference for aluminum can through the different firms such as pharmaceuticals, beverage, food, and chemicals are expected to drive the global aluminum cans market over the preplanning timeframe. The high recyclability features of aluminum cans are also expected to rising product demand by different firms. The product that is made from recycled metal uses less energy and water and emit lesser carbon emission, which, in turn, is likely to drive the aluminum cans market globally in the years ahead.
Related Projects: – Aluminium and Aluminium Downstream Projects
The aluminum market is expected to grow over the forthcoming years, owing to significant witnessed in the beverage firms, rising of the disposable income of people, rising inclination of consumers towards canned food products. It also provides protection against light, moisture, oxygen, and several other contaminants apart from being rust-resistant. The availability of different packaging substitutes like PET bottles and glass containers may hamper the global aluminum cans market demand.
According to the structure of the aluminum cans market is fragmented into 2 pieces cans and 3 pieces cans. 2 pieces cans accounted for a significant market share in 2018. According to their safe packaging solution as the technology used for packing drinks in these cans are rust preventive, and non-toxic in nature. According to the application, the market is divided into chemicals, beverage, food, pharmaceutical, and others. The beverage sector accounted for a major market share in 2018, due to the rising demand for aluminum cans for packing alcoholic and non-alcoholic beverage like beer, cider, carbonated drinks. Rising the transport firm and technology advancement in aluminum manufacturing technologies and processing equipment is the big element that drives the growth of the aluminum market.
Related Books: – Steel, Iron, Ferrous, Non-Ferrous Metals With Casting And Forging, Aluminium, Ferroalloys Technology
THE MANUFACTURING PROCESS FOR PRODUCING ALUMINUM CANS:
Most of the aluminum beverage cans are produced by using a drawing and ironing (D&I) process. For manufacturing of aluminum cans requires a drawing and ironing of a sheet or blank of material, untinned low-carbon cold-rolled steel, to develop a tabular piece. The tabular piece is used as a can body. This sheet used to be roughened in order to maintain a uniform density with minute depressions.
For reducing the mechanical and frictional forces on the blank and on the D&me dies an oil or other lubricants are highly usable. During the operating process, the lubricants are applied on the roughened surface which helps to eliminate galling of the dies and minimize fracture of the metal. The setting of a Brewery Industries has a lot of scopes as initially, it requires less capital and manpower.
Related Videos: – Aluminum Cans Production. Profitable Manufacturing Business of Aluminum Beverage Cans
SCOPE OF ALUMINUM CANS FOR BREWERY INDUSTRIES:
Market volume is projected to grow with a CAGR of 4.0% due to the forecast period.
Asia-pacific and Europe collectivity contributed more than half of the world's aluminum market share revenue in 2018. In 2018 Asia pacific dominated the market owing to massive urbanization, growth in income of people in urban sectors, and rapid firm growth.
Mexico is projected to rising at a preplanning rate in the North America aluminum market registering a CAGR of 4.0%.
Flat-rolled market volume is projected to rising with a CAGR of 4.0% due to the preplanning period.
Germany is accounted for an 8.5% share in the European aluminum market.
Turkey is accounted for a 1.7% share in the LAMEA alumi9num market.
The transport sector is estimated to show the highest rising registering a value CAGR of 3.5%.
For More Details, Click Here:- https://www.niir.org/blog/