White Petroleum Jelly from Crude Oil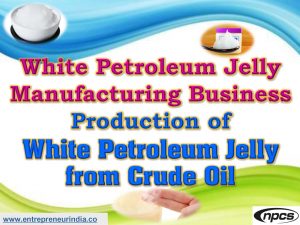 White Petroleum Jelly Manufacturing Business. Production of White Petroleum Jelly from Crude Oil.     
Petroleum Jelly is additionally referred to as petroleum jelly or mineral jelly. It's largely utilized in emulsion type in cosmetics & pharmaceutical for the preparations of various creams, ointments, lotions etc. industrial petroleum jelly is used within the manufacturing of lubricants & Grease. Petroleum jelly of excellent quality utilize in petroleum jelly producing. It's additionally used as a moisturizer in sensible quality rest room soaps. It additionally finds its use as a opposed oxidization agent for iron merchandise like blade, wire
Surgical instruments etc. it's on the market within the market in various forms. It should be white, yellow, and green or is also of some color relying upon ingredients used.
White petroleum jelly, which may be utilized in cosmetics and pharmaceuticals. Therefore strict quality control is needed for the manufacturing of this item. Petroleum jelly is created by the waxy petroleum material that formed on oil rigs and distilling it. The lighter and agent oil-based product form up petroleum jelly, additionally known as white petrolatum or just as petrolatum.  Basically, the crude material undergoes vacuum distillation. The still residue is then filtered through animal charcoal to yield petroleum jelly.
Uses
It is a helpful material once incorporated into candle wax formulas. The petroleum jelly softens the general mix, allows the candle to include further fragrance oil, and facilitates adhesion to the sidewall of glass. Petroleum jelly was formerly used as the simplest way to pitch a spitball in baseball. Petroleum jelly utilize to moisten synthetic, as a part of a combination of hydrocarbons together with larger (paraffin wax) and lesser (mineral oil) molecular weights.
Medical Treatment: – Chesebrough originally promoted Vaseline primarily as an ointment for scrapes, burns, and cuts, but studies have shown that Vaseline has neither medicinal effect nor any effect on the blistering process, nor is it absorbed by the skin. Vaseline brand First Aid Petroleum Jelly, or carbolated petroleum jelly containing phenol to give the jelly additional antibacterial effect. Acting as a sunscreen, it provides protection against ultraviolet rays. Petroleum jelly's effectiveness in accelerating wound healing stems from its sealing effect on cuts and burns, which inhibits germs from getting into the wound and keeps the injured area supple by preventing the skin's moisture from evaporating. A verified medicinal use is to protect and prevent moisture loss of the skin of a patient in the initial post-operative period following laser skin resurfacing. Petroleum jelly is used extensively by otolaryngologists – head and neck surgeons for nasal moisture, epitasis treatment as well as to combat nasal crusting.
Skin and Hair Care: – Most petroleum jelly today is used as an ingredient in skin lotions and cosmetics, providing various types of skin care and protection by minimizing friction or reducing moisture loss, or by functioning as a grooming aid.
Moisture Loss: – By reducing moisture loss, petroleum jelly can prevent chapped hands and lips, and soften nail cuticles. Petroleum jelly can be used to keep swimmers warm in water when training or during channel crossings or long ocean swims. It can prevent chilling of the face due to evaporation of skin moisture during cold weather outdoor sports.
Hair Grooming: – petroleum jelly, either pure or as AN ingredient, was additionally popular as a hair pomade. Once utilized in a 50/50 mixture with pure beeswax, it makes an efficient moustache wax. It's used as a key ingredient for conditioners of Afro-textured hair
Skin Lubrication:- petroleum jelly is accustomed reduce the friction between skin and clothing throughout varied sport activities, for instance to forestall chafing of the seat region of cyclists, the nipples of long distance runners wearing loose t-shirts, and is usually utilized in the crotch space of wrestlers and footballers. Petroleum jelly is usually used as a private lubricating substance.
Application sector:-
Petroleum jelly is an ingredient in many cosmetics and lotions. Originally it was marketed as a burn ointment. Petroleum jelly also may be applied to dry or chapped skin to seal in moisture. A variation known as red veterinary petroleum confers some protection against UV (ultraviolet) exposure and has been used as a sunscreen.
Pharmaceuticals/ Cosmetics industry
Jelly filled cable
Other miscellaneous application including rust prevention etc.
Petroleum jelly white / yellow IP uses are as follows:
Skin ointment / Skin cream
Hair Vaseline
Pain balm
Cold cream and cosmetic preparations
Ophthalmic ointment
Vaporub Ointment
Market Outlook
Various Cosmetics and pharmaceuticals are used by the large number of people in general for wounds, cuts, burns, skin diseases. In today's business word, more and cosmetics industries are coming up and thereby increasing the demand for the raw materials like petroleum jelly. Hence it can be assumed that the petroleum jelly is having very good market potential in view of development of cosmetic & pharmaceutical industry in India.  Based on region, the worldwide petroleum jelly market will be classified into North America, Asia Pacific, Europe, geographic area, and Middle East & Africa. North America is projected to make substantial contributions toward the growth of the general marketplace for petroleum jelly within the near future. Being one in all the most important manufacturers of pharmaceutical and cosmetic product across the world, the U.S. is anticipated to steer the North America petroleum jelly market. As countries like China, Japan, and Asian nation witness high demand for petroleum-jelly-based pharmaceutical and cosmetic product.
Increase in the demand for pharmaceutical and cosmetic products is expected to drive the global petroleum jelly market in the near future. Petroleum jelly forms a sealing barrier on dry and damaged skin, which locks the moisture and helps in speeding up natural recovery process of the skin. This generates high demand for petroleum jelly in pharmaceutical and cosmetics industries. Petroleum jelly is an excellent anti-rusting agent and water repellant. It is odorless and inert. These properties of petroleum jelly is expected to drive the market. Since industries such as marine, leather, telecommunications, and manufacturing require petroleum jelly for several applications wherein rusting or water can cause severe damage to equipment and operations. Thus, use of petroleum jelly helps these industries to overcome challenges in an efficient manner.
Production Processes:-
Petroleum jelly is a useful material when incorporated into candle wax formulas. The petroleum jelly softens the overall blend, allows the candle to incorporate additional fragrance oil, and facilitates adhesion to the sidewall of the glass. Petroleum jelly is used to moisten nondrying modeling clay such as plasticine, as part of a mix of hydrocarbons including those with greater (paraffin wax) and lesser (mineral oil) molecular weights. It can be used as a release agent for plaster molds and castings. It is used in the leather industry as a waterproofing cream. It can be used for tinder, lightly coated on a cotton ball. It has been used as a secondary ingredient in a Molotov cocktail, to make the flames stick to any surface they touch and to make large amounts of smoke.
Key Players:-
       Unilever
       Sonneborn LLC
       Sasol
       Raj Petro
       Eastern Petroleum
       Persia Paraffin
       Sovereign Chemicals & Cosmetics
       Unisynth Group
       Shimi Taghtiran Company
For More Details, Click Here:- https://niir.org/profile-project-reports/profile/4549/white-petroleum-jelly-manufacturing-business.html